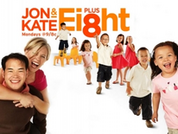 Welcome to Jon and Kate plus 8
A little bit of info on Jon and Kate plus 8 Edit
Jon & Kate Plus 8 (also known as Jon & Kate Plus Eight, and stylized on the title card as Jon & Kate Plus Ei8ht) is a reality television show produced in the United States by Figure 8 Films about the Gosselin family, consisting of parents Jon and Kate with  their eight children: fraternal twins and sextuplets. The show follows the family through their daily lives, focusing on the challenges of raising multiple children. The show originally aired on Discovery Health, but has aired on TLC since season 3. The show was one of the highest rated programs on TLC during its runand the fifth season premiere was seen by a record 9.8 million viewers, the most watched show of that evening including broadcast television, twice as many viewers as the show's previous series high. The family originally appeared in a one-hour special titled Surviving Sextuplets and Twins.
On September 29, 2009 TLC announced that as of November 2, 2009, the program would undergo a name change, to Kate Plus Eight. The series will focus on Kate as a single mother raising 8 children. Despite the new title, Jon Gosselin will continue to appear on the show, just less frequently. After receiving a cease and desist order from Jon's attorneys on October 1, 2009, TLC announced that filming the children had been suspended.
On October 15, 2009, TV Guide reported that TLC has temporarily dropped the renaming of the show due to Jon's cease-and-desist order. If the new series does not go into production, TLC would like to do "a series of specials" instead. On October 26, 2009; TLC reported that the show will end in the end of November with a special on Kate Gosselin. The show is finished it's five season.
In 2010; TLC and Kate Gosselin announed that the show would return on June 6, 2010 as Kate plus 8. The show is currently in it's first season as Kate plus 8
Family Members
Edit
Total of pages
Edit
We Currently have four pages. We need your help. Keep up the good work!!!